Building the Future
Since 2006, Spurrier Land Surveying has been in business to provide land surveying throughout the state of Kentucky. Take a look at our surveying services to see how we can best fit your needs. From large scale commercial surveying and private projects, governmental or individual lot surveys for building a home, or boundary surveying for fences, lost corners, etc. Some of our services include:
Route Surveys for Transportation and Utility Corridors
Control Surveys for Aerial Mapping Rectification
As-Built Surveys
Communication Tower Surveys
Monitor Well Surveys
Wetlands Surveying
Geographic Information Systems (GIS) field data acquisition
ALTA/ACSM Land Title Surveys
Boundary Surveying ( Large and Small )
Subdivision Design and Layout
What Our Land Surveyors Do: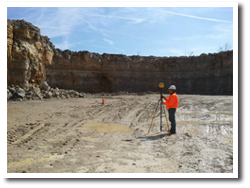 At Spurrier Land Surveying, our land surveyors will help you to save on time, money, and worry by surveying your land and helping you solve your problem or issue. Spurrier Land Surveying researches maps, deeds, and other documents that describe boundaries and perform boundary surveying and make field measurements to best determine property lines, encroachments, and easements. We can set lost property corners and mark property lines or give you a formal survey plan that shows structures.
At Spurrier Land Surveying, you can trust our team of skilled land surveyors to help you with any of your land surveying. Our land surveyors will ensure that you get the results you need in a quick and timely manner so that you can complete your project. If you need to know the specific elevation and contour of the land, we can run a topographic survey. If you need to know how your site was constructed, we can conduct an as-built construction surveying. Or if you need more precise measurements for a specific project, a GPS land survey will help you get the accuracy you need. We perform constructiong surveying, boundary surveying and other surveying services in Elizabethtown, Bardstown, Hodgenville, Radcliff, Fort Knox, West Point, Louisville, Shepherdsville, Boston, Lebanon Junction, Munfordsville, Upton, Sonora, Cecilia and all of Kentucky. If you are in need of a land surveyor for your construction surveying, boundary surveying or other surveying needs, contact us today to get a quote on your project. If you have questions about land surveying, visit our frequent questions page.